Gathering Community Church, A Church Home Where All Are Welcome
A gathering of Christians, coming together in simple faith and belief.
Gathering Community Church of Surfside Beach, South Carolina, is a body in Christ who assembles for worship and fellowship.  "The Gathering" is every Sunday  at 10:00 a.m. Together we enjoy the grace, love and wholeness Christ offers to everyone.
Our Mission – "Encourage Biblical and Simplistic Living in Christ."
Our purpose is for each one to be encouraged and empowered by Christ's Love. It is our hope that each person is motivated to share His love with the Community in which they live.
The body in Christ is lead by Pastor Rev. Benjy Simmons.
Our worship consists of a blended style of music, joys and concerns, prayer, Holy Communion and relevant, biblical teaching for today's culture. Click here to see for yourself…

Join us on Facebook – If you cannot attend service with us on Sunday you can still "be here" no matter where you are.  Just head over the Gathering Community Church Facebook page by clicking the logo above. There you can view a video of the latest message given by Pastor Benjy Simmons. You will also be able to view additional past messages at your leisure. Then plan to join us next Sunday, where you will feel the love and grace Christ has waiting for you!
He Loves You Unconditionally And Is Waiting For You To Give Him Your Heart!
"Lord, I admit I cannot handle my life any longer, I believe you are the answer to my chaos.   I know I have missed the mark you have set in Christ. Save me, fill me and use me.   Thank you Lord for my new life today. In Jesus Name, Amen."
If you have prayed this prayer and believe you have a new life in Christ, first, tell someone about your decision. Then find a bible based church and serve others with the new love Christ has planted within your heart. If you would like for us to pray for you whether it be a new decision in Christ or if you need prayer for your life's situation, please allow us to help you. Email your request to gatheringcc@frontier.com
---
Simple Weddings on the Grand Strand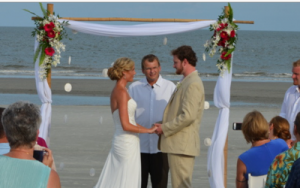 Pastor Benjy also serves couples wishing to be married on the Grand Strand area. If you would like more information on being married in this beautiful beach community visit his website  Simple Wedding Day